29 years ago today a baby girl was born. This wasn't just any baby girl. And of-course as every Mother thinks about their child, she was special.
12 years later I had the pleasure of being welcomed into my second family. Her family. Your family. It was immediate, the affection and adoration I had for your family. And you, Kristen. And, yes, as mentioned above, you were special, one of a kind.
Just like your big sister
. So dissimilar to her in most ways but very alike in others. A force of nature unto your own. Albeit a much quieter one. And not because cancer had invaded your voice box requiring it to be removed at far too young of an age. No, though literally speaking you had no voice, quite figuratively you most certainly did. Though Erin could be described affectionately as a hurricane you were more like a strong breeze on a new spring day.
I miss you Kristen. And though it's nothing compared to the dark, empty space of ache left in the centre of your parent's and Erin's being, it resides there inside mine too, coming and going with little things occurring to the day to day, week to week, month to month, that spark a memory of you, bringing a smile to my soul. A lift to my day.
When I think of you Kris, one particular memory always comes alive in my mind. You and my sister-in- law doing the salsa to one of Rihanna's songs in the hotel room during my bachelorette party. You in your flowy pink shirt smiling, laughing. Having the time of your life. As you always did. Even in the throes of chemo 1 year later you still managed to choke down a shot in true O'Halloran style at my friend's Bachelorette party.
When I think of coming to your house to visit with your family or pick up Erin you were always the first to answer the door. Your smile shone so genuinely. It took me aback that someone would always be so happy to see me. And your hugs…always the best hugs. Your white blond hair, pale blue eyes and porcelain skin may have made one think you were as fragile as a flower but they belied the stongest spirit of a person I've yet to meet again. The O'Halloran women are the strongest I know. They also give the best hugs. There is nothing better than a good, strong hug to make one feel at home.
Yes, you were sweet and very angelic looking but you had quite the sarcastic side to you, which you always whipped out on your father. Oh the fun you made of him…so entertaining to watch. Of-course Mr O is always a fun guy to make fun of…the sense of humour in your family is second to none. It's one of the many things I love most.
I remember the first time I heard you 'sing'. Your index finger to throat rasping along, with zero melody or tune, to one of the cd's your sister and I were playing as we got ready to go out. It made me smile as much as it made my heart ache.
I dream of you. Often. When I got the call from Erin on a cold snowy night in January telling me that your cancer had come back it was like a very bad dream. This was never supposed to happen. I was in disbelief, shock and denial. I dreamed that night that you had come to visit me at work. I kept telling you, insistently, you were going to get better, you were. You sat there beside me, quiet. Your presence comforting me as I cried. I couldn't stop the tears from falling. You know those dreams you have when you cry and cry and cry. You just can't stop and you wake up in the morning feeling as if you really had wept those tears, drained and exhausted…it was one of those. In my dream you comforted me knowing all the while that you would be leaving us soon. Too soon. Though you were still alive then I illogically believe your soul somehow visited me that night as we both slept. It was so real.
I know that your sister felt a tremendous burden not being with you as much as she wanted to be in the last months. She constantly questioned the quality of her big sisterhood living so far away. I think you'll agree with me that, just like she is the greatest best friend to me, she was also the greatest big sister a little girl could ever wish for. She loves you more than anyone. Anyone.
The day of your funeral….it seems so wrong to call it a funeral really. It was more of a celebration of who you were. People were asked to wear hockey jersey's knowing what a huge hockey fan you were. Ah, Pittsburgh Penguins…couldn't you have won the Stanley Cup that year!? Didn't you know your biggest fan was there watching?!! Ah well. She pulled some strings up there for you guys in 2009. Way to go Kris.
It was the most awe-inspiring funeral I have ever attended. Filled topped to bottom with every life you've ever touched. Man, that was a LOT of lives that felt your touch. It was a wonderful tribute to an incredible woman. Full of tears, full of song, but full of laughter too.
Shortly after your soul began an otherworldly journey, I had another dream of you. You were sitting on a bed showing me beautiful, brightly coloured costume jewelry. Tons of it. Necklace after necklace. Bracelet after bracelet. You loved jewelry – another rare commonality between you and Erin. You were very jubilant and yet so at peace. You were also talking to me, it was of nothing specific or important, we were just chatting away. And you had a voice. I remember waking up in the morning and having my first thought be…she had a voice! She now has a voice! It is melodic and sing songy and perfectly suited to you.
Yes, you left us all too soon Kristen but you lived a life more full and more filled with adventure than most. Though you may have physically left us just over 3 years ago your spirit lives on in the huge dragonflies I see everywhere now, the colour purple, the penguins I see at every turn, in stuffed, cartoon or craft form, in the pictures of you that my sons point at expectantly, smiling as if they know who you are even though they've never met you and most importantly in the charity foundation, The Dash, that your amazing Mother and wonderful best friend started up in honour of you.
You took a piece of our hearts along with you at the end of your time here and in exchange left a great part of your spirit behind. May every person you touched in your short life live even half the kind of life as you did. And may we all consciously continue living life fully, bravely and inspirationally within
The Dash.
Happy Birthday to you lady. May you being singing loudly and salsaing up a storm with drink in hand.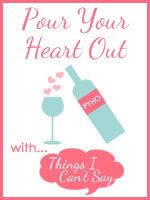 Shell - Things I Can't Say