It was one of those days.
Starting with whining in the morning, a major fall down drag out tantrum in the public library (my four year old...not my 'terrible 2 year old' who's yet to have a tantrum to date).
The dinnertime was all of a sudden upon me and though I had had full intentions of a delicious meal planned and even had the forethought to take out chicken from the freezer that morning - the day had gotten the better of me and I laid down completely exhausted in our family room amongst piles of dinky cars, scattered puzzle pieces, couch cushions and blankets piled haphazardly from a fort that Adrian and I had built but which Finley decided to tear down minutes later.
A righteous battle had ensued.
And I had not a bit of energy to mediate.
My husband eventually came down from working all day and ordered me (kindly) to get out, go upstairs, take a break from getting annoyed at my boys relentless need to push my every already worn out buttons.
And as much as I wanted to sprint from the house and not look back I was just too tired.
A half hour passed and I sat in bed, laptop in front of me ... half-heartedly reading blogs with one ear open knowing that the peace wouldn't last long.
I could hear my husband making dinner for the boys - he had even brought me a grilled cheese to eat
in bed.
And he was silently forgiven for me having to clean up 20 lbs of dog crap scattered in the back yard earlier that week.
Then.
Up came Adrian.
Up came Finley.
So I decided to make the most out of the situation have some fun on Photobooth....
And then it was time for bed.
After I read a few books to them it was time to put Finley in his crib and then I laid down with Adrian.
He was restless. Kicking his legs about, squirming, sitting up, laying down.
"Do you want me to sing a song to you?"
And it hit me...when was the last time I sang to my sons? I used to sing to them every night.
Every night.
When did I stop?
Why did I stop?
I started with Magalena Hagalena....a song my Mum used to sing to my brother and me all the time. A silly, fun song. I could see his smile in the street lamp light that peeked around his blinds as I sang.
"Do you want me to sing you another song?"
"What is it?"
I sang him Janis Joplin's, Mercedes Benz. Another one that my Mum sang us as children. And she sings it way better than I do. But despite my raspy, cracking voice, he became quiet. Still.
I sang him two more songs - favourites that I used to sing to him all the time. The Kookaburra Song and Robin in the Rain. He sang a few lines along with me in his sweet little boy voice.
He remembered.
I ended with Away in A Manger. The one I always used to put him to bed with since he was a newborn swaddled in my arms - another song that brings me back to my childhood...he yawned as I sang softly and out of key. His body relaxed and his eyes closed.
"Bless all the dear children in thy tender care"...that line always gets to me.
And so I always say a silent prayer for all the dear children who don't have parents that cuddle and love, cherish and sing to their sweet blessings at night. Or ever.
At that moment I made a promise to myself.
I needed to start singing to my sons again at bedtime...not just for them.
But for me too.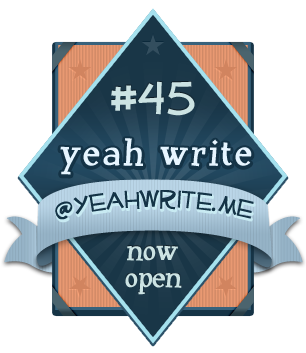 It's Tuesday again...and time for linking up to
Yeah Write
. SO much fun and SO many great writers and bloggers. Go on over, have a visit, read come great blogs over a cup of coffee or tea then return on Thursday to vote for me and 2 other favourites.