He clomped in from outside, rosy cheeked and smelling of grass, fresh air and that inexplicable smell of boy. He was riding his bike outside with the other kids on the street and had worked up an appetite as he so declared as soon as he came through the door.
"Mumma! I'm hungry!"
I was already in the kitchen feeding my little one who sat on his knees on the chair at our round, wooden kitchen table.
"Would you like a ham sandwich?"
"Of-course! Or uhhh....maybe a hot dog?"
"Did you know that ham is actually a flattened hot dog?" The energy for hot dog making wasn't in me.
"Okay! With mustard!"
As I squeezed the tart yellow spread onto the bread, he asked if he could help. I gave him a butter knife and told him to spread it out right to the edges.
(It's important to me that each mouthful has perfect portions of ham to bread to mustard ratio.)
He spread some out and then asked for help with the rest. I placed my grown Mother hand over top of his still growing four year old boy one and we took the time to evenly cover the rest of it together.
I finished up the sandwich and placed it on a plate (uncut as per his request) with baby carrots and off he went carefully carrying the plate out to eat his lunch on the front step amongst his friends.
Later that night in his bed, twilight surrounding us, I scooped him close and cradled him like the baby he is no longer. His long legs hung lanky across my forearm, his already muscular arms folded between my chest and his as I curled him in close to me. I kissed the top of his head and told him my thanks for the day....
"I'm thankful for your hugs and snuggles. Your huggles!" I said with a smile. It's a word I recently made up and it makes my boys laugh. He looked up at me and giggled and said, "Mumma? You know what I'm thankful for?"
I love hearing what he has to say during these moments. It always surprises me. Pleasantly so.
"No...what are you grateful for today baby?"
"Ham sandwiches."
Ah yes. I knew just what he meant.
Ham sandwiches made with the special ingredient that makes everything taste that much more delicious.
Ham sandwiches...made with love.
*********************************************************************************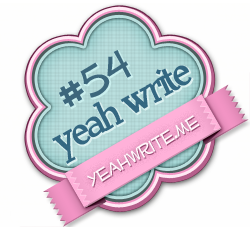 It's been a few weeks since my last link up over at my favourite writing community and I've missed them all! Please take some time and head on over to read, read, read to your heart's content. It's worth not getting anything done around your house! (just make sure your kids are fed and watered)