I found a card a few months ago that I had given to my husband for our 7 year anniversary of togetherness (up to and including our marriage - I abhor having to start 'all over again'
just because we married
- pft!) anyway...the card is so simple yet so perfectly describes a relationship, a marriage.....love.
On the outside it says:
LOVE ISN'T IN THE FALLING...
(please excuse the horrible quality of my phone picture)
when you open it up it says:
IT'S IN THE STAYING THERE
(I added that little heart - I like to do cheesy things like that)
So, today, in honour of Valentine's Day I wrote a poem for my husband...I don't fancy myself a poet but when the mood strikes I go for it.
I'm crazy like that.
********************************************************************************
To the love of my life;
nearly twelve years have come and gone
a year for every rose to be given to thee valentine
except
I don't wish for flowers
but you already know that
twelve years of give and take
often longing for 50-50
learning, faltering, careening, oftentimes wallowing...
that an even parallel doesn't work one hundred percent of the time
a dozen years of a lot of love
and a little bit of hate.
because if you've ever
truly
been in love
you don't get to have one...without the other
for if only love were that simple
dissolution of the ties that bind would be rare
twelve years
of a lot of laughs
and tears shed
moving through the days filled with duty
weeks after months of responsibility
years of opposite work schedules
passing each other in the late afternoons
my hello to your good-bye
though never without a kiss
no. never without a kiss
evenings of cribbage filled with mighty competition and a couple of bottles of wine
of music, great conversation, cooking dinner together
then
lying curled into one another
your hand on my belly
our fingers entwined
together
always
this is what we do
7 years ago almost to the day
we sat across from each other in our tiny old apartment
where you laid out the rocks we collected together
from all of our beach walks
unbeknownst to me...you kept them all those years
I love that we still have them
you asked me to be your wife that night
then put a beautiful one on my finger
it was perfect
designed for me only
6 years ago we vowed
forever
5 years ago our love became
a tiny not yet tangible one blooming inside of me
4 years ago he was born
filled with spirit, curiosity and very loud lungs
he is pure love
3 years ago I began to blossom
again
with our second child
2 years ago our second son was born
brimming with soul, sensitivity and a mischevious glint is his baby blues
he is pure love
doubling the love in our family
doubling our devotion to each other
we were in deep
life became all encompassing
our nights punctuated with baby cries
diaper changes
feedings and teething
stumbling our way forth
blindly, tiredly
grappling
teetering
we fell to our knees at times
on the sharp edge of a barrage of
questions
how, when, will you, can we
do this?
but we never fell off
life is an ever changing kaleidoscope of emotions
and there will be more
I know this
for that
is marriage.
and
this
is love.
I want to thank you for giving all that you have
for being all that you are
for living this life
always
by my side
12 years have passed and now my life is complete
I am proud
Of Us
My Family
Our Life
Together
I'm blessed today
and everyday
to be surrounded by my boys
my loves, my heart, my all
two, for a time too short
until they find another
one, for forever and a day
but today I have
all of you
here and now
to myself
My three
Beautiful
Perfect
Valentines.
Me and my tiny Valentine's.
My Main Valentine.
Life is an adventure with you my dear husband.
You can take me dune buggy riding any day.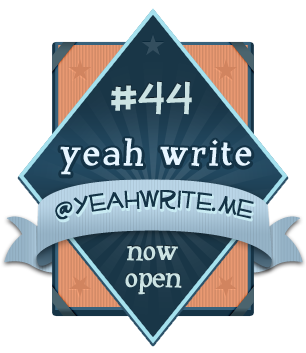 I am taking the plunge again over at
Yeah Write
. Please go on over and read some awesome blogs. You can return again on Thursday and vote for me and 2 more of your favourites.